Kitchen is that part of our home where all the daily activities take place. In other words, we can say that it is the place where we perform most of the household chores such as cleaning, cooking, etc. Usually it is the mother or the helper of the family that carry all of these workloads on their shoulders. Kitchen chores are something that most of us do not enjoy doing as it consumes time and can be tiring too. Modern technology comes to their aid and finally we have reason to rejoice. Now, there are many kitchen appliances that can help us perform half of our workload making life at the kitchen relaxing and more comfy.
The fact is that our kitchen has become a part of our home where we store all the useful appliances and modern kitchen equipment. Modern kitchen appliances are elegant in design and it not only minimizes your work, but also enhances the look of your kitchen. With all the needed appliances installed in your kitchen, you can transform your kitchen to a new place where working is enjoyable and not boring. Here are some kitchen appliances that have helped me a lot and tools without which I cannot live.
Cooktop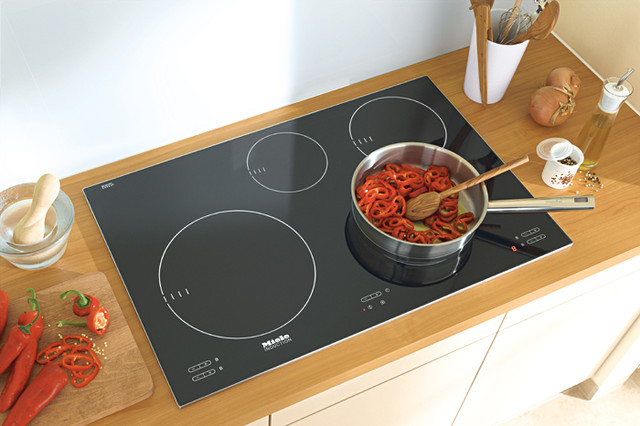 Cooking is a hobby for me and so I don't have a problem with it. When it comes to kitchen chores, cooking is one that we perform daily. A reliable and a good quality cooktop can make cooking much easier, and furthermore it is responsible for the cooking result. What I mean to say is that a good cooktop that has modern features and technology will be more user friendly and give you better control. I have the GE PHP960DMBB Induction cooktop installed in my kitchen. It is the best cooktop that I have used so far. It is a large cooktop that has 5 different sized burners with different temperature settings, which allows me to cook whatever I want. It cooks at twice the speed of other types of cooktop and has all the necessary modern features like pan sensors, control lock, touch control panel, and LCD display screen, etc.
Refrigerator
The refrigerator is another useful equipment in my kitchen that takes care of all my food. There are many choices available at the market and in different styles. It is a very important household appliance as it prevents food spoilage. As I have a freezer in my kitchen, I can buy food in bulk for days or weeks and I don't have to worry about it being spoiled; doing so saves my time and money too. Modern refrigerators allow us to store fresh food as well as dried food. It can also provide us chilled drinks during those hot sunny days. Trusted brands of refrigerator includes Samsung, Whirlpool and LG.
Dishwasher
Cleaning dishes and kitchen utensils is one of the kitchen chores that we don't really enjoy doing. It consumes time as well asrequires physical movement, and thus it is a tiring work. With the introduction of the dishwasher into our lives, cleaning has become much easier. Now, your dishwasher can do all the cleaning automatically. All you need to do is put in those dirty dishes and simply press the button. In simple words, it cleans the dishes by spraying hot water mixed with detergent and then dry the dishes mechanically to make it clean and retain their new looks.
Washing Machine
Another machine that can simplify your workload, a washing machine, has become a necessity in every household. Again, washing is time consuming and it can drain your energy. We all want to wear clean clothes and if you have small kids, you will need a washing machine even more. At a press of a button, a washing machine will wash your clothes and save you a lot of time and energy.